News
Family Legacy Helps Spark Johns Hopkins APL Intern's Broad Curiosity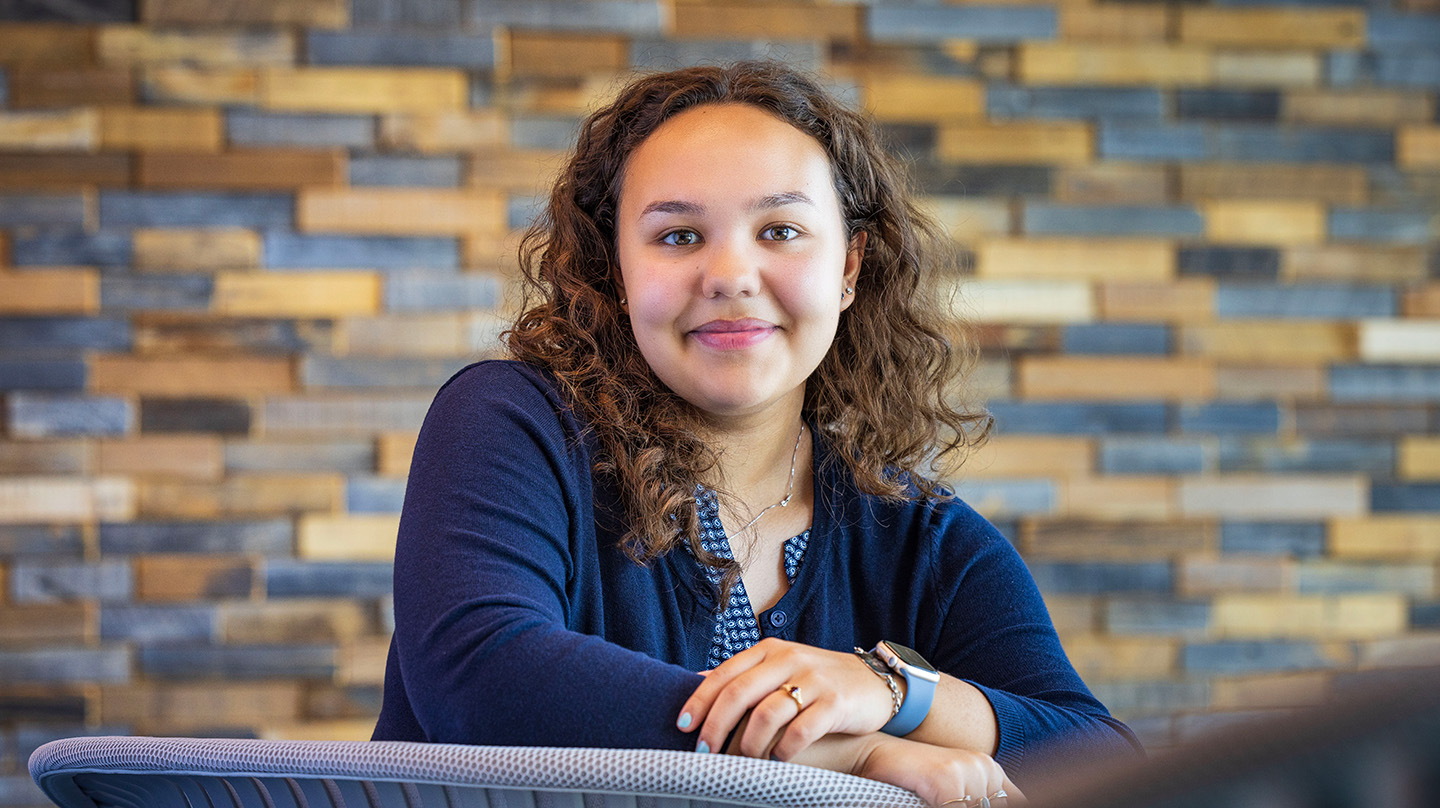 Madison Harshaw is an intern at APL, working in the Lab's Information Technology Services Department.
Credit: Johns Hopkins APL/Ed Whitman
Thu, 07/27/2023 - 13:25
Erin Copland
You must love where you work when you're the latest in a four-generation legacy.
Madison Harshaw is an intern at the Johns Hopkins Applied Physics Laboratory (APL), working in APL's Information Technology Services Department (ITSD). Having participated in APL's Student Program to Inspire, Relate and Enrich (ASPIRE) for the past few summers — and due to her qualifications, engagement and enthusiasm — Madison has since been accepted into APL's college internship program.
She's also the fourth generation of APLers in her family.
"I've been told about APL all my life — that it's a great place to work, and a great environment for the employees," Harshaw said. "I'm really excited to be here now."
Harshaw's family history is literally written on the walls of the Lab, including as part of a newly reimagined "Legacy Bridge" display featuring staff member names in an APL campus building.
It was her paternal great-grandmother Mable "Marie" Rollman who started the family legacy of working at APL, coming on as a receptionist in 1968 and eventually working as a secretary for Alexander Kossiakoff during his tenure as the Lab's director. Marie left the Lab in 1978 to accompany her husband, Joe Rollman, to Tehran, Iran, for two years while he helped prepare and publish telephone directories for the Chesapeake & Potomac Telephone Company (commonly known as C&P Telephone).
Later, Harshaw's maternal grandparents joined the Lab, with her grandmother Patricia Purwin ultimately becoming the manager of APL Recreation Inc., which later became the Recreation Office.
Harshaw's maternal grandfather, Stanley Purwin, joined APL in 1988, eventually becoming a group supervisor in what was then the Space Department and is now the Space Exploration Sector. He was responsible for ensuring the reliability and performance of the hardware used on spacecraft such as New Horizons, Near Earth Asteroid Rendezvous (NEAR) Shoemaker and Mercury Surface, Space Environment, Geochemistry and Ranging (MESSENGER).
Today, Harshaw's parents work at the Lab — her mother, Kristine, as supervisor of ITSD's Agile Information Solutions Group and her father, Brent, as a plumber and HVAC mechanic in APL's Business, Construction and Facilities Department.
Harshaw said she has every intention of continuing to follow in her family's footsteps, having interned at APL for the past three summers.
"I'm very interested in what APL's Research and Exploratory Development Department (REDD) is doing — the neuroscience work especially so," Harshaw said. "I would love to work at APL. It's a great place to be."
Harshaw has enjoyed exploring the Lab with opportunities set up by her mentor, Angela Jones, which have included tours of APL's main and satellite campuses and seeing the model of the Dragonfly rotorcraft, and looks forward to a scheduled meeting with one of the Lab's neuroscientists to discuss their work.
"I love Angela as my mentor," Harshaw said. "She's been very helpful, and she's given us lots of new opportunities to learn about the work here, which I really appreciate."
While she enjoys working with the "cool new machines" in APL's maker space, Central Spark, Harshaw is also interested in various other scientific fields. Since graduating from Mount Hebron High School in nearby Ellicott City, Maryland, in May, she says she is looking forward to studying biology and data analytics at the University of Maryland, College Park, in the fall.
Innovate for a Better World

Internships at APL

From day one, we give you the opportunity to use the skills you've gained at school to push the boundaries of science and technology. We provide you with a strong support system of dedicated coworkers and opportunities to work on projects that truly mean something. When you join APL as an intern, our goal is to give you the tools and resources that allow you to shape the career of your dreams.
The Applied Physics Laboratory, a not-for-profit division of The Johns Hopkins University, meets critical national challenges through the innovative application of science and technology. For more information, visit www.jhuapl.edu.