News
Johns Hopkins APL Designs Framework for a Digital Red Cross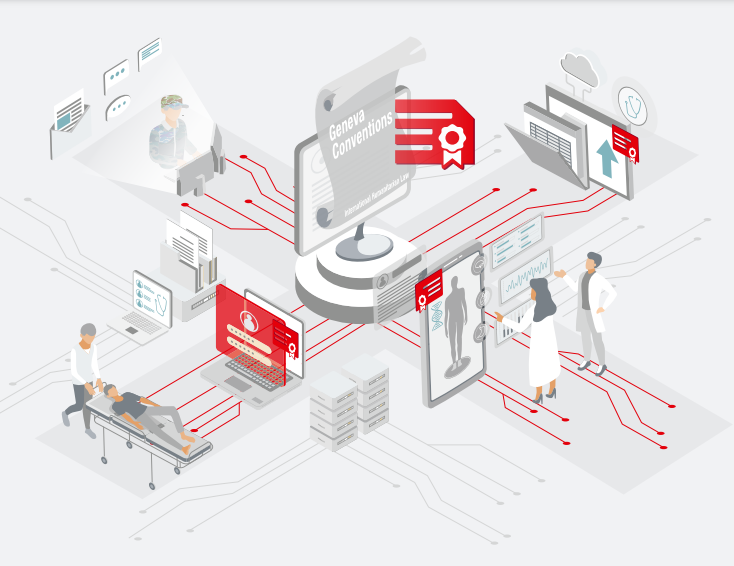 An artist's interpretation of the digital emblem. Johns Hopkins APL worked with the International Committee of the Red Cross on a two-year research effort on how a digital emblem could mark and identify medical and humanitarian entities' digital assets, services and data. The emblem would signal their protected status.
Credit: Radhika Banerjee/ICRC
Wed, 06/21/2023 - 08:49
Amanda Mantiply
The Red Cross, Red Crescent and Red Crystal are displayed on hospitals and ambulances around the world. The symbols are internationally recognized emblems of legal protection for the sick, the wounded and those who care for them in armed conflict — in the physical world.
As humanitarian relief and health care organizations increasingly rely on computer networks to help provide care, they are also increasingly vulnerable to cyberattacks. Disruptions from cyber operations have hindered relief efforts and accounted for delayed care, overmedication and increased mortality.
The Johns Hopkins Applied Physics Laboratory (APL) in Laurel, Maryland, recently collaborated with the International Committee of the Red Cross (ICRC) to develop a technical framework to replicate the protection signaled by the ICRC's physical emblems in the digital world. APL worked with the ICRC on a two-year research effort that included global experts from academic, humanitarian and technical organizations. The team looked at how a digital emblem could mark and identify medical and humanitarian entities' digital assets, services and data. The emblem would signal their protected status.
"Can We Build a Norm?"
In defining how a digital emblem would work, APL first addressed a much broader question.
"We build things at APL. We wanted to know, could we build a norm in cyberspace to assure a more stable internet?" said Erin Hahn, managing executive in APL's National Security Analysis Department (NSAD). "It's hard to articulate a norm when there is not already behavior behind it. We know it helps to have a galvanizing principle that people can get behind. People can grasp the idea of a digital emblem. The emblem offers a small, concrete step to establish more common norms for cyber operations."
APL began by looking at how other norms were established. For example, governments, freight companies and seamen used to argue over fishing rights, piracy and pollution from ships. Over time, the relevant actors agreed on responsible norms of behavior and eventually, these norms were codified as the law of the sea — an international agreement that helps to maintain order and peaceful relations on the sea.
"While the physical emblem is already recognized under international law, it will take some time for governments to agree to the recognition of its digital equivalent," said Kerstin Vignard, senior security analyst in NSAD. "In the meantime, proving the technical feasibility of such an emblem and garnering support from relevant stakeholders — including governments, internet service providers and humanitarian organizations — are essential to building a norm that recognizes the digital assets, services and data of medical and humanitarian entities should have the same legal protection in the digital world as they have in the physical one."
Marking Medical Facilities in Cyberspace
A primary challenge with developing norms for the internet is that there is no single overarching organization responsible for its operation. Because the internet is a system of systems, each network service provider manages its networks as it sees fit.
Principal technical leader Antonio DeSimone and research scientist Brian Haberman, both of APL's Asymmetric Operations Sector, led APL's research into the technical development of a digital emblem. To simplify the emblem's rollout, the team looked at capabilities that could be added to existing infrastructure so that network service providers could leverage known technologies rather than deploying and learning brand-new services.
This led APL to explore two primary mechanisms for a digital emblem:
When someone types a URL (such as www.icrc.org) into a web browser, that name gets converted into an IP address. The domain name system (DNS) makes that conversion. A DNS-based emblem would add a visible label to the domain name (www.icrc.emblem) or would associate an attribute through a special record in the DNS (similar to email authentication mechanisms) to signify its status in a straightforward and easily accessible way.
An Internet Protocol (IP) address-based emblem would apply semantics to a site's address to designate its protected status. This would build on an existing system that assigns IP addresses and would allow systems anywhere on the internet to see whether systems or communications are associated with a protected entity.
Health care facilities and humanitarian organizations would need to provide justification for receiving the digital emblem, just as they must use the physical emblem. Such approval would most likely involve the national Red Cross organizations, as they currently oversee the use of the physical emblem.
Once approved, regional internet registries would associate semantics with ranges of IP addresses. These address ranges indicate the systems and data belonging to organizations authorized to use the digital emblem. Or, in the DNS approach, the DNS server operator would update the records and names associated with the organization to reflect the use of the digital emblem.
In both cases, security mechanisms that employ cryptographic techniques, such as digital signatures, would ensure the integrity of the digital emblem. By taking advantage of existing infrastructure for assigning and securing the internet's names and addresses, APL's approach mitigates the risk of improper use of the digital emblem.
Protecting the Emblem
While an emblem may signal legal protection, there are concerns that a distinctive identifier could also be used by bad actors to target medical facilities.
"If something is precious in cyberspace, you're often told not to put a soft target on it. We carefully studied whether a digital emblem would increase hospitals' exposure to harm," said Haberman. "We found that it's already easy to identify medical organizations in cyberspace if someone wants to. So, if a malicious actor wants to target a hospital, they can and they do. But during armed conflict, a group may broadly take actions that inadvertently target medical facilities. A digital emblem would prevent wrong targeting and help responsible actors identify and redirect cyberattacks."
The widespread visibility of the emblem would allow more people to participate in its protection by design. Internet service providers already monitor network traffic. If protected parties are publicly marked, the providers can more easily spot malicious traffic targeting protected sites. If the digital emblem became part of the international humanitarian legal framework, it would also afford legal protection against cyberattacks.
The ICRC and APL engaged with numerous global organizations to discuss the trade-offs of establishing a digital emblem. With encouragement from technical and humanitarian organizations, the team is exploring the feasibility of developing a digital emblem. The APL team is now creating prototypes for the two mechanisms and is working with the American Red Cross and its internet service provider to test them.
Developing the technology for the prototypes is just the beginning. For a norm to take hold, there will need to be a larger policy and legal framework to recognize the digital emblem. As with the physical emblem, the larger framework would address implications of violating the protection and how governments around the world will enforce its protection.
According to DeSimone, "This work shows how APL can apply our technical expertise to big challenges in society at the nexus of technology, policy and norms."
The Applied Physics Laboratory, a not-for-profit division of The Johns Hopkins University, meets critical national challenges through the innovative application of science and technology. For more information, visit www.jhuapl.edu.