News
Johns Hopkins APL STEM Programs Inspired Local Student to Pursue Biomedical Engineering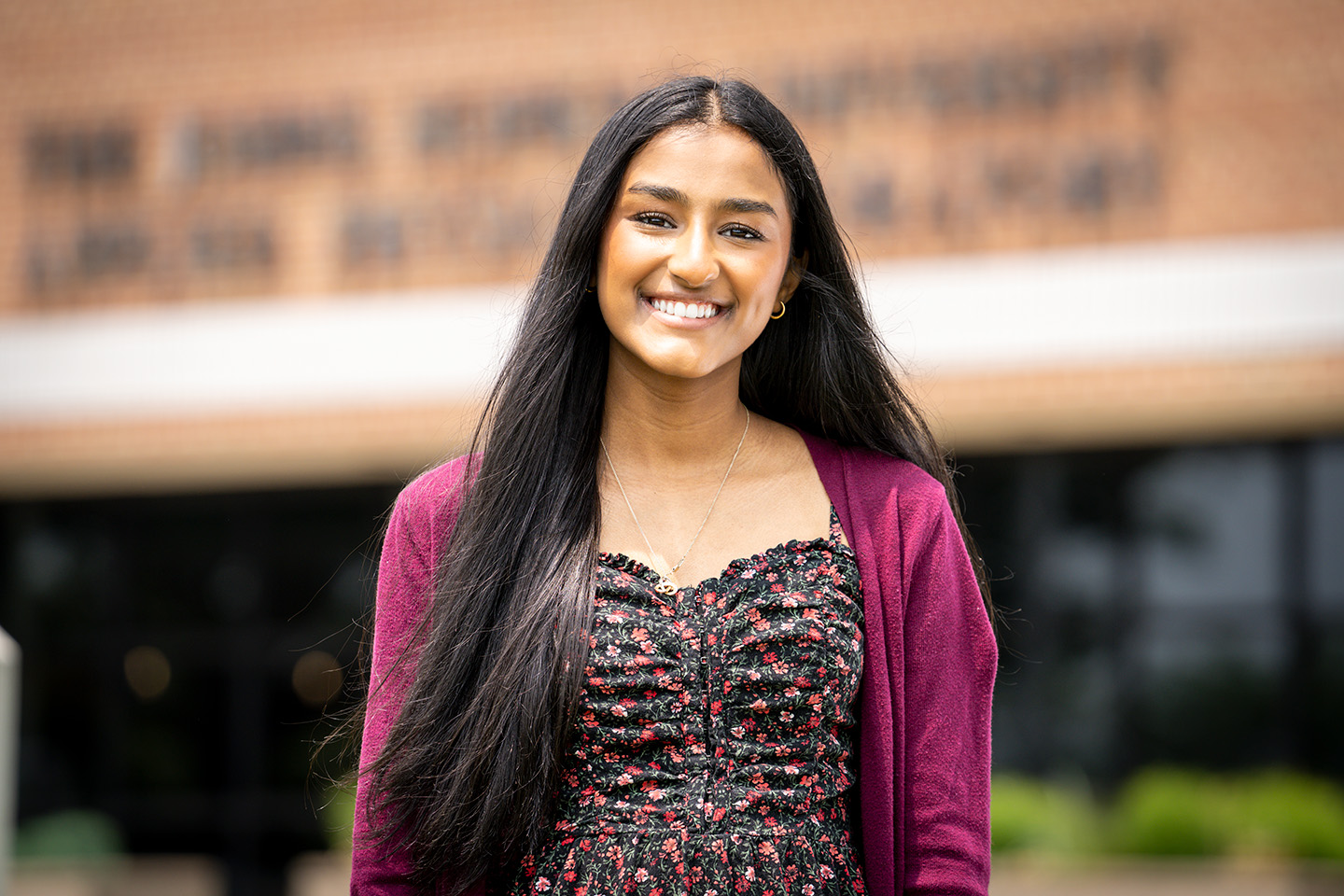 Sanika Devare was recognized as the 2023 STEM Scholarship winner. Johns Hopkins APL's STEM Scholarship is awarded annually to one high school senior who has participated in two or more APL STEM outreach programs.
Credit: Johns Hopkins APL/Craig Weiman
Thu, 06/08/2023 - 15:45
Amanda Mantiply
When Sanika Devare was 10 years old, she watched in awe as high school students walked across the stage to accept awards at the Maryland MESA (Math, Engineering, Science Achievement) competition. Now, Devare is one of the high school seniors being honored.
Devare was selected as the Johns Hopkins Applied Physics Laboratory's (APL) 2023 STEM scholarship winner. The $8,000 scholarship is awarded to a high school senior who has participated in two or more APL STEM outreach programs.
"As a daughter of two hardworking immigrants who left everything behind in hopes of being able to give their children better educational opportunities, I learned that education is one of the most powerful weapons and that if I want to achieve anything, I have to work hard to get there," said Devare. "I always knew that scholarships and grants would be the gateway to higher education and ultimately to the lasting impact I can make on the world."
Throughout elementary, middle and high school, Devare participated in several APL programs, including Maryland MESA and STEM Academy. She joined MESA when she was in the fourth grade after seeing the program advertised in her school and continued her involvement for seven years.
"APL's STEM scholarship honors students who have a well-rounded experience with our programs. Now in its second year, the scholarship encourages students to get involved with multiple programs for a complete look at what APL has to offer," said Elise Buckley, the STEM academic program specialist. "In her application, Sanika demonstrated how she has already applied the lessons she learned in APL's STEM programs to research projects in the medical field."
One of Devare's most memorable experiences with MESA was in the sixth grade, when she participated in the program's prosthetic arm challenge (now referred to as the national engineering design challenge). Devare and her team created a prosthetic arm out of kitchen tongs and a pool noodle. She recalls being immersed in research for the project and learning that bioengineering was a field with a lot of possibilities.
"MESA helped me develop skills that are important inside and outside of the classroom," said Devare. "With each challenge, there were last-minute complications that taught me the importance of perseverance and to trust my instincts. I learned that if something doesn't work, you can try again until it does. APL's STEM programs helped solidify my interests and taught me important life skills like critical thinking, teamwork, public speaking and time management."
In high school, Devare also was a member and co-captain of SpiderBits, an all-girls robotics team sponsored by APL Women in Technology (AWiT). Each year, the team of beginner coders builds a robot for the FIRST® Tech Challenge.
"Sanika was a junior captain for the team and lead for the build subteam, where she was a strong leader," said Yukino Nagai, a mechanical engineer in APL's Force Projection Sector and an AWiT mentor for SpiderBits. "She saw the big picture and not only stepped in where she could best contribute but also rallied her teammates and got everyone involved in building the robot."
Devare was selected as this year's scholarship winner from a group of 37 applicants. The judges are APL staff member volunteers. "Our staff enjoy seeing the work of up-and-coming students, and it provides great exposure for the students who participate in APL programs. This year, we had over 100 staff members volunteer their time," said Buckley.
In the fall, Devare will study bioengineering at the University of Maryland, College Park.
The Applied Physics Laboratory, a not-for-profit division of The Johns Hopkins University, meets critical national challenges through the innovative application of science and technology. For more information, visit www.jhuapl.edu.