News
Spacecraft Engineer Is on Fire for Community Service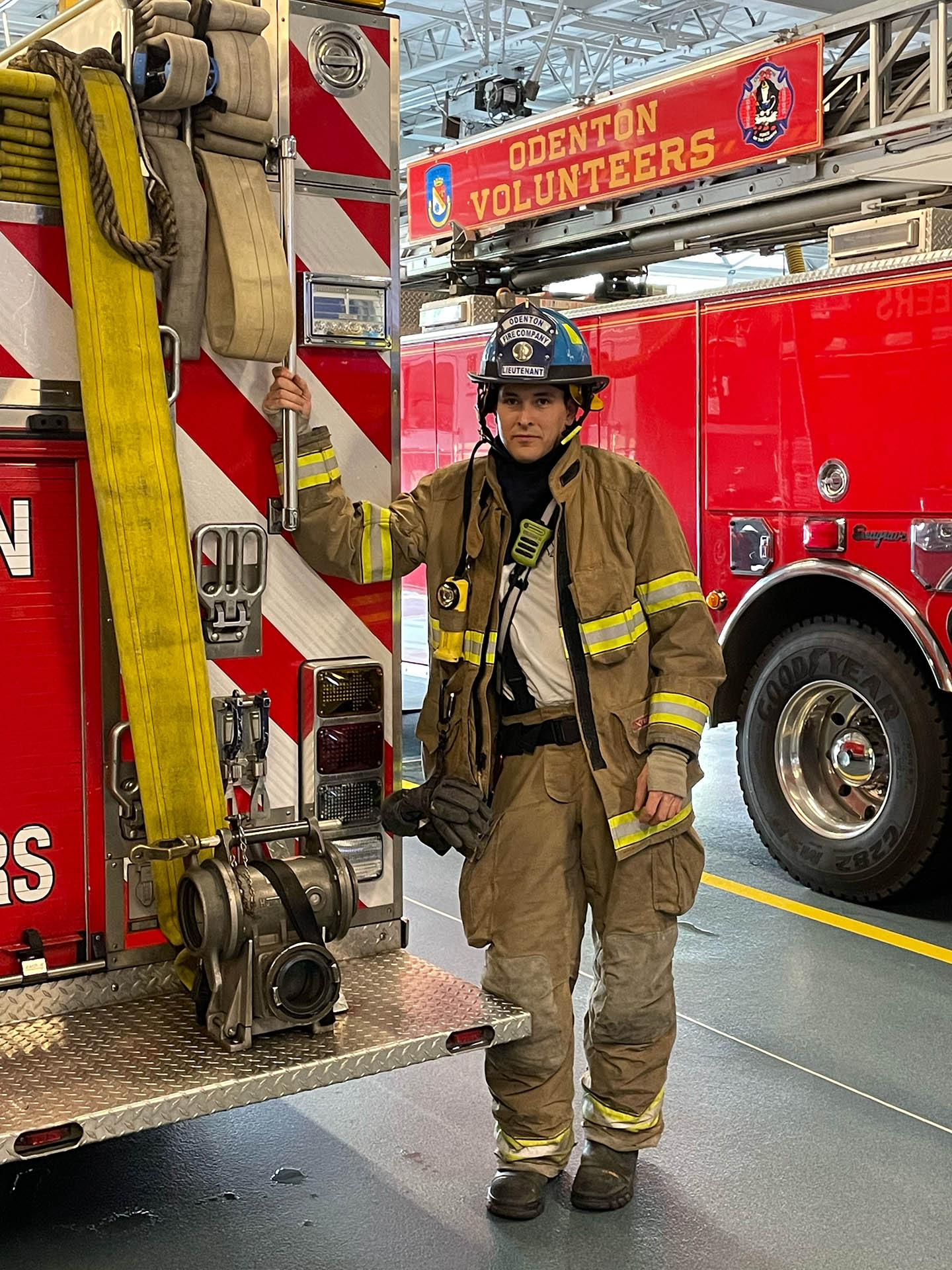 Kyle Norman on the job at the Odenton Volunteer Fire Company in Maryland.
Credit: Kyle Norman
Thu, 05/25/2023 - 15:00
Ashley Hume
Johns Hopkins Applied Physics Laboratory (APL) engineer Kyle Norman spends his time away from the office putting out fires — literally. Last month, Norman received the Central Maryland Chamber 2023 Public Safety Spirit of Community Award for his work as a volunteer firefighter.
"As a kid, I always wanted to be a firefighter, but I ended up going down a different route and became an engineer," said Norman. "When I moved to Odenton, I started driving past the firehouse and saw a volunteer sign plastered on the side of it. One day, I just went in and inquired about it. They said no prior experience was required, so I gave it a shot."
Since joining the Odenton Volunteer Fire Company in 2018, Norman has risen to the rank of lieutenant and has completed more than 650 hours of emergency response training. In 2022, he responded to more than 360 emergency calls, ranging from fires to medical emergencies to vehicle rescues.
"It's really nice to be able to volunteer in your community and give back in that way," Norman said.
Norman accomplished these feats while also working full time at APL and completing a master's degree in space systems engineering. In his daily work at the Laboratory, Norman helps design, manufacture and test the complex electrical systems — called harnesses — that power spacecraft.
"The harness team's job is to get all the wires in the spacecraft connected properly, and to connect all of the electronic boxes," Norman explained. "A lot goes into that work — we have to determine what wires to use, how to shield them, what connectors we need and how to route the wires around all the various components."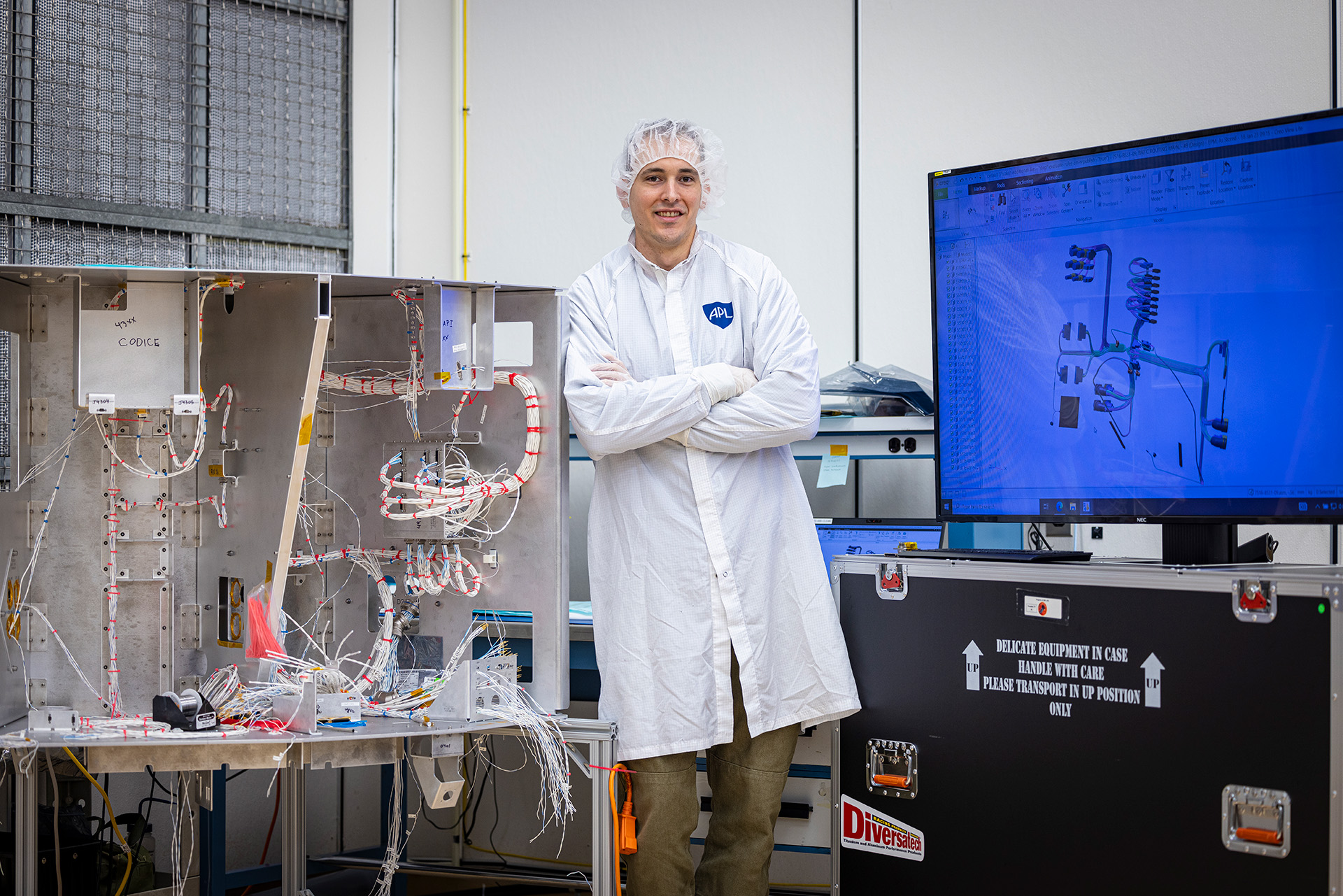 APL engineer Kyle Norman stands between a computer-aided design (CAD) drawing of the Interstellar Mapping and Acceleration Probe (IMAP) wiring harness and the harness itself on a mock-up of the spacecraft.
Credit: NASA/Johns Hopkins APL/Princeton/Ed Whitman
Making Connections
Harness engineers come from a number of different backgrounds, mostly because the work doesn't fit neatly into any particular major in college. Norman came from a mechanical engineering background and says he fell into harness engineering through other related work.
"It's interesting because the harness touches essentially every other subsystem on the spacecraft," Norman said. "We collaborate closely with so many different teams on a mission, from the mechanical team to all the various instrument teams."
Norman's current project is the Interstellar Mapping and Acceleration Probe (IMAP), NASA's mission to explore our solar neighborhood — the heliosphere — and decode the messages in particles from the Sun and beyond. APL builds and operates the spacecraft for the mission, in collaboration with Princeton University (the principal investigator institution) and an international team of 24 partner institutions.
The spacecraft will carry 10 instruments that are being built all over the world. Each instrument brings its own unique set of harness-specific challenges. This requires the team to keep track of and implement many different solutions specially designed to suit each system's requirements.
"A spacecraft with this many instruments is fairly unique in my experience," Norman said. "We're working with instrument teams from as far away as Poland. I'm really enjoying the challenge."
The team is manufacturing the IMAP harness now, creating it on mock-ups of the structure while the real spacecraft is at Aerojet Rocketdyne. When manufacturing is complete, the harness will be tested to ensure it can survive the harsh environment of space and endure bakeout — a process in which it will be exposed to high temperatures and vacuum pressure to remove any potential contaminants.
When the spacecraft's primary structure returns to APL in late summer, the harness will be one of the first components to be added.
Before working on IMAP, Norman also helped create the harness for NASA's Double Asteroid Redirection Test (DART) mission, which was built, managed and operated at APL before its triumphant and intentional crash into the asteroid Dimorphos in September 2022.
"It's really rewarding to work on spacecraft that produce game-changing science and to see that my work is going out to make a difference," Norman said.
He credits firefighting with giving him perspective that helps with his engineering tasks.
"A bad day at work doesn't seem quite so serious in the face of the emergencies we see at the fire station," Norman said. "And the engineering work requires an analytical mindset that is very helpful on the scene of an emergency."
About IMAP
Princeton University professor David J. McComas leads the mission with an international team of 24 partner institutions. APL builds the spacecraft and operates the mission. IMAP is the fifth mission in NASA's Solar Terrestrial Probes (STP) Program portfolio. The Explorers and Heliophysics Project Division at NASA's Goddard Space Flight Center in Greenbelt, Maryland, manages the STP Program for the agency's Heliophysics Division of NASA's Science Mission Directorate.
The Applied Physics Laboratory, a not-for-profit division of The Johns Hopkins University, meets critical national challenges through the innovative application of science and technology. For more information, visit www.jhuapl.edu.