Press Release
Johns Hopkins APL's DART Lead Ed Reynolds Named One of Time Magazine's 100 Most Influential People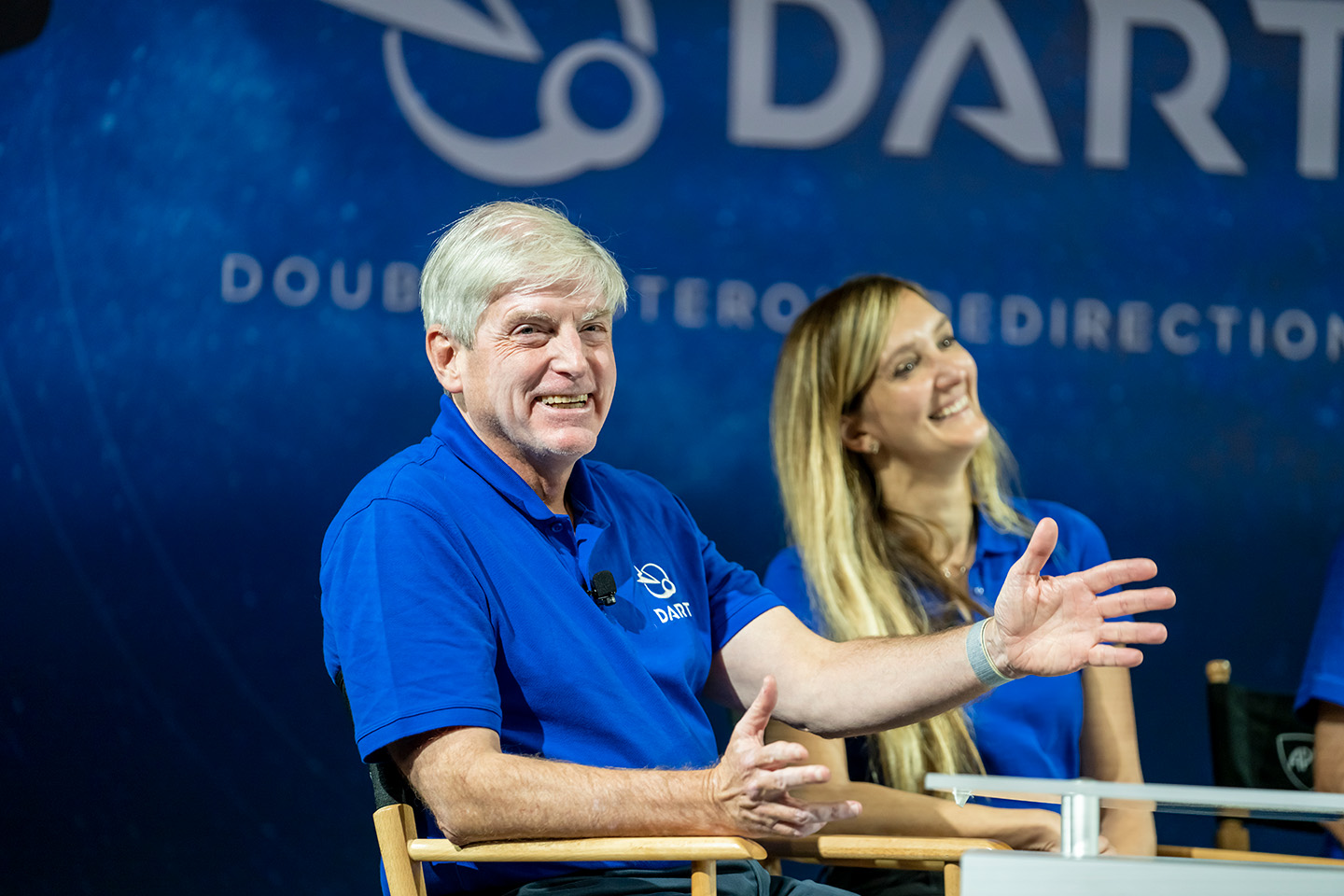 Johns Hopkins APL's Ed Reynolds (left), DART mission project manager, and Elena Adams, DART mission systems engineer, brief reporters during a press conference at APL after DART's successful impact at asteroid Dimorphos on the evening of September 26, 2022.
Credit: NASA/Johns Hopkins APL/Craig Weiman
Thu, 04/13/2023 - 08:36
Ed Reynolds, a program manager in the Space Exploration Sector at the Johns Hopkins Applied Physics Laboratory (APL) in Laurel, Maryland, has been named to the 2023 TIME 100 list of most influential people.
Each year, Time selects artists, innovators, leaders, icons and pioneers from around the globe who are changing the world. Reynolds was recognized for his role at APL in leading NASA's Double Asteroid Redirection Test (DART) mission, the first-ever demonstration of asteroid deflection technology. On Sept. 26, 2022, DART — envisioned, built and managed by APL — changed the orbit of a celestial body for the first time in human history, proving the feasibility of planetary defense as a domain.
"I'm incredibly honored to be included in this list," Reynolds said. "This recognition is only possible because of the dedication and hard work of the many people on the incredible DART team."
"DART was a spacecraft designed to prove humanity has technology capable of purposefully moving a celestial object's path in space" said Lindley Johnson, NASA's Planetary Defense Officer. "Planetary Defense is an endeavor of unity, and Ed embodied this ideal as he worked to bring the mission team together to ultimately make history."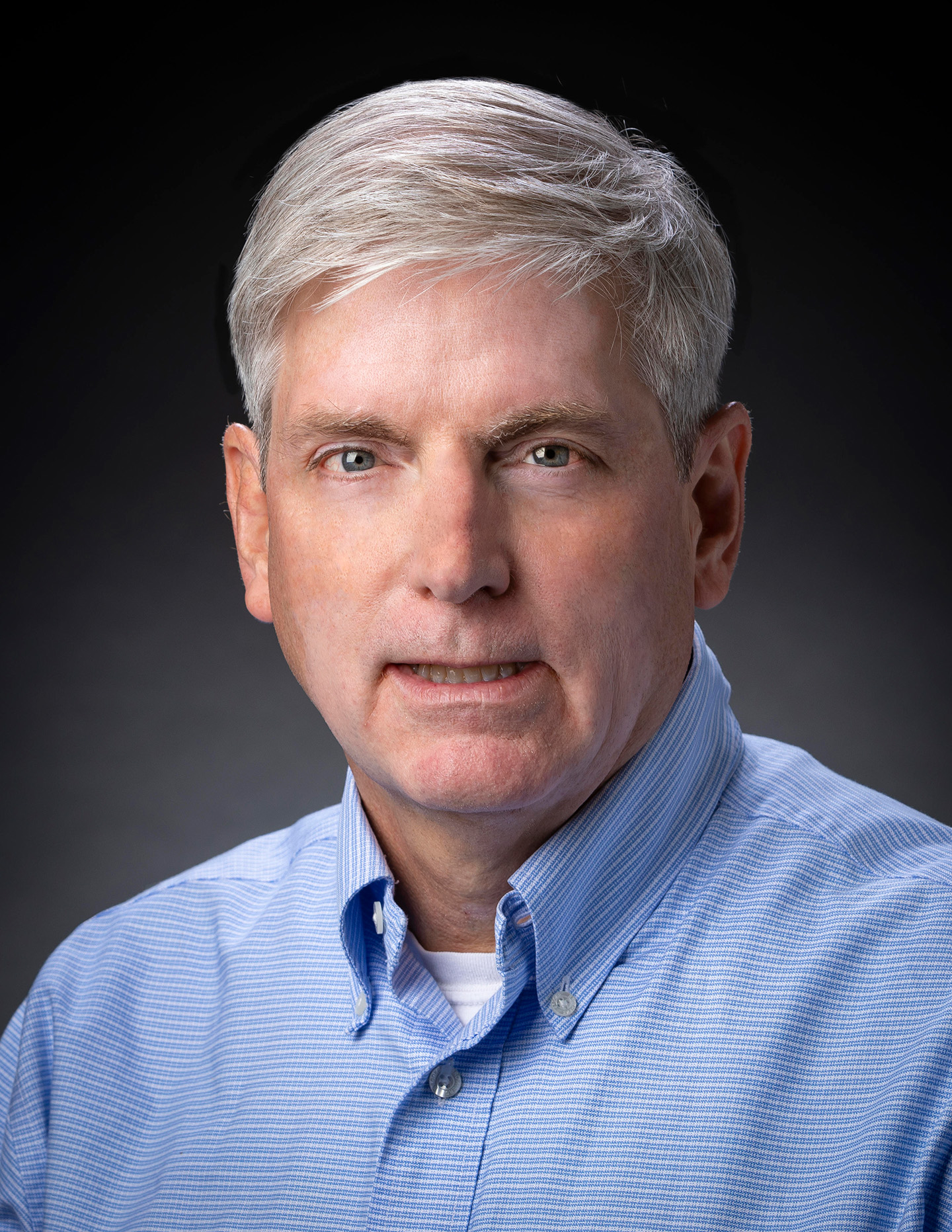 As the APL project manager for the mission, Reynolds led hundreds of team members from the Laboratory, industry, academia and government in the design and development of the DART spacecraft. He guided the team through the challenges of the COVID-19 pandemic (which coincided with the start of the critical integration and testing phase of the mission) and the many unknowns associated with DART's goal: using onboard autonomous navigation technology to hit and alter an asteroid's orbit.
"The historic DART mission required an intense level of planning and execution from a team spread across the nation and world, and Ed's leadership was critical to mission success," said APL Director Ralph Semmel. "That success can be traced to his commitment to teamwork developed throughout his many accomplishments here at APL. We are thrilled to have Ed and the entire DART team recognized with this award."
"At APL, we've been working for decades on the technologies required to make planetary defense a reality," said APL Space Exploration Sector Head Bobby Braun. "The DART accomplishment demonstrates just how far we've come as a spacefaring society and what we can accomplish in this arena. Ed's leadership was instrumental in weaving the contributions of hundreds of engineers and scientists into a cohesive and impactful mission. He did so amazingly well, and with humility, grace and dedication."
Reynolds, currently the project manager for the Plasma Instrument for Magnetic Sounding (PIMS) that will fly on NASA's Europa Clipper orbiter, joined APL in 1985. He has held leadership roles on many Lab-managed NASA missions, including Parker Solar Probe, the Van Allen Probes, Radiometer Assessment using Vertically Aligned Nanotubes (RAVAN) CubeSat and Solar Terrestrial Relations Observatory (STEREO).
Reynolds' experience with asteroid missions runs deep. He was a systems engineer during the concept stages for NASA's Near Earth Asteroid Rendezvous (NEAR), the first mission to orbit and land on an asteroid. Reynolds began his APL career as a space integration and test engineer working on missions such as the Polar BEAR spacecraft, the Special Purpose Inexpensive Satellite altimeter (SALT) program's Miniature Radar Altimeter Payload, the Nuclear Electric Propulsion Space Test Program (NEPSTP) spacecraft and the Active Geophysical Rocket Experiment (AGRE).
Reynolds has a master's degree in project management from the George Washington University and a bachelor's degree in electrical engineering from Virginia Tech.
Time will celebrate honorees at the annual TIME 100 Gala on Wednesday, April 26, 2023, at Jazz at Lincoln Center in New York City. The Time 100 list was first published in 1999.
The Applied Physics Laboratory, a not-for-profit division of The Johns Hopkins University, meets critical national challenges through the innovative application of science and technology. For more information, visit www.jhuapl.edu.