Press Release
APL Named Top Supporter of HBCU Engineering Programs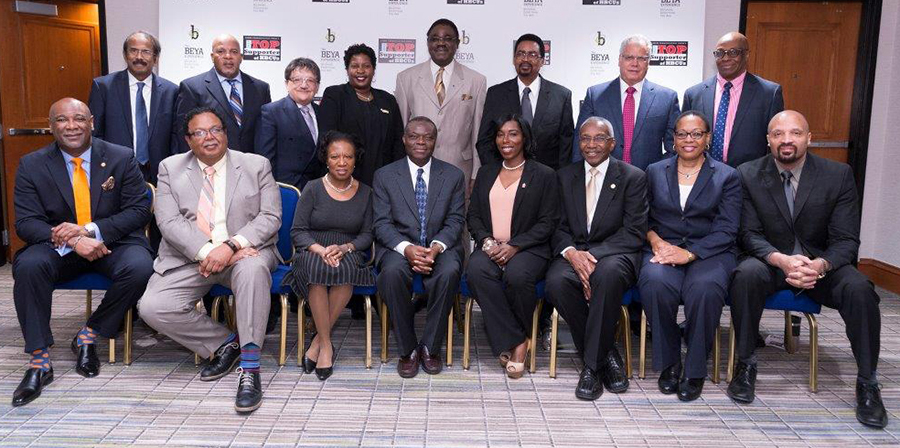 APL staff members, center front, pictured with HBCU engineering deans at the 2017 Black Engineer of the Year Awards in Washington, D.C.
Credit: APL
Wed, 04/19/2017 - 10:28
APL has been honored once again for its strong support of engineering programs at Historically Black Colleges and Universities by Career Communications Group, a national organization that promotes the achievements of minorities and women in the science, technology, engineering and math (STEM) fields.
"APL is honored to be recognized for our support of HBCU engineering programs," said Dwight Carr, who manages APL's STEM Program Management Office. "Helping students develop their potential in STEM-related fields is among APL's highest priorities, and this recognition demonstrates our commitment to providing powerful learning experiences to STEM students."
The group named APL to its 2016 annual "Top Supporters" list, based on the results of a survey of the deans of 15 HBCU engineering programs accredited by the Accreditation Board for Engineering and Technology, Inc., and the corporate–academic alliance, Advancing Minorities' Interest in Engineering.
The institutions were asked to list the corporate and government/nonprofit organizations that provide the most support to their schools, in areas such as infrastructure modernization and enhancement, research and mentorship projects, participation on advisory councils, faculty development opportunities, scholarship, student projects, stipends, co-ops and career opportunities.
APL's connection to the HBCUs extends back several years. Many of APL's minority staff members are graduates of HBCUs, in particular Morgan State University, Howard University, and North Carolina Agricultural and Technical State University.
The highly competitive APL Technology Leadership Scholars (ATLAS) internship program, which targets undergraduate and graduate students in STEM disciplines attending HBCUs, Hispanic Serving Institutions and Minority Institutions, has become a model for providing experiences that integrate challenging work opportunities with leadership, mentoring and professional development. The program also serves as an important pipeline for technical minority hiring at APL.
More recently, APL has put particular focus on its relationship with Morgan State University. "We have established a strategic relationship with Morgan State, represented by a broad set of collaborative activities," noted Jackie Akinpelu, a supervisor in APL's Asymmetric Operations Sector and the Laboratory's liaison to Morgan State University since 2013.
APL and the university are in the seventh year of a mentoring program that pairs engineering students with APL mentors and provides formal professional development activities. Morgan State students and faculty have carried out APL-funded research projects in areas such as communications software and social media analysis, the latter focused on creating innovative tools to enable police departments to leverage and assess social media for improved community engagement. Annual tours provide students and staff with up-close looks at APL's advanced facilities, and Lab staff members have delivered guest lectures on topics as diverse as cybersecurity, secure communications and industrial engineering.
The Applied Physics Laboratory, a not-for-profit division of The Johns Hopkins University, meets critical national challenges through the innovative application of science and technology. For more information, visit www.jhuapl.edu.