Productions
---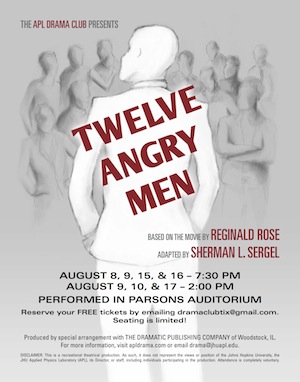 Twelve Angry Men
Adapted by Sherman L. Sergel
Directed by Scott Lichtor and Lynn Reggia
Twelve Angry Men is a gripping drama, adapted by Sherman L. Sergel and based on the Emmy award-winning television movie by Reginald Rose, performed by the Drama Club in the summer of 2014. The Drama Club's rendition of the show was profiled by The Baltimore Sun and given an extremely postive review by DC Metro Theater Arts.
In the show, a man has been murdered, and his son is on trial for the crime. But is he guilty? Eleven angry jurors are convinced that the answer is yes - but one man has a doubt, and he is determined to get past their easy answers and arrive at the truth. The riveting drama shows the twists and turns of a seemingly open and shut case, and engagingly explores the universal, timeless, and human themes surrounding prejudice, integrity, and justice.
Twelve Angry Men was the first Drama Club production performed in Parsons Auditorium. The show received an extremely positive reception from audiences at seven performances, particularly for creative and effective uses of the space and for an exceedingly talented and polished ensemble cast.