Productions
---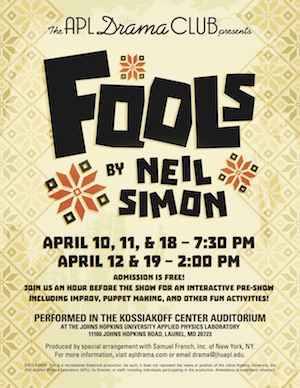 Fools: A Comic Fable
Written by Neil Simon
Directed by Lynn Reggia
Fools was the Drama Club's 10th full production - a big number for a Club full of engineers! The show was profiled by The Baltimore Sun, and given a glowing review by DC Metro Theater Arts. It featured a lively and fun pre-show, including improv, a Drama Club FAQ video, and one of the silliest iterations of Romeo and Juliet ever seen
The plot of Fools is stupid - literally. Indeed, the fictional town of Kulyenchikov, where the play is set, has been cursed with ignorance and stupidity for two hundred years. The hero of the story is Leon Tolchinsky, who travels to Kulyenchikov for his very first job as a schoolteacher. When he arrives in the town, he discovers that he will succumb to the curse of stupidity in twenty-four hours - unless he is able to teach one thing to the beautiful Sophia Zubritsky. In a village cursed with stupidity, that turns out to be more difficult than you'd think...
Fools was heaped with praise for drawing laughter out of children of all ages (including, especially, adults). The show even had a very special performer - Ralph Semmel, the Director of APL himself!
As for the special, pre-show Drama Club FAQ - here it is!