Directions
---
Directions to the Kossiakoff Center at the Johns Hopkins University Applied Physics Lab (APL)
APL is located at 11100 Johns Hopkins Road, Laurel, MD 20723, approximately 0.5 miles west of U.S. Route 29.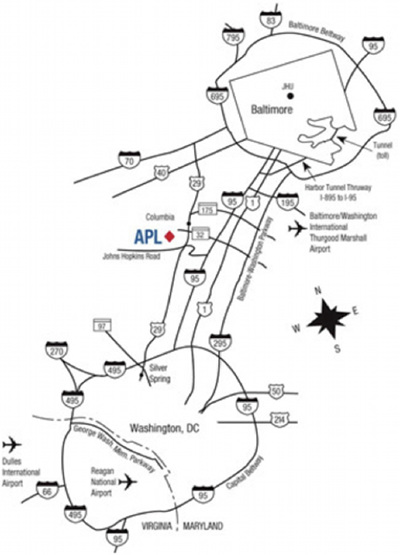 From the Baltimore Area
Take I-95 South toward Washington, DC
Take MD Route 32 West (toward Columbia)
Go 2.5 miles and take U.S. Route 29 South (toward Washington, DC)
Go 1.5 miles and take exit 15 for Johns Hopkins Road
Exit onto Johns Hopkins Road
APL is on the right about 0.5 miles past Route 29
From Washington, DC and the Capital Beltway (I-495)
Take I-95 North toward Baltimore
Go 8 miles and take MD Route 216 West (toward Scaggsville)
Go 1.2 miles and turn right onto Leishear Road
Go 0.8 miles and turn left onto Gorman Road
Go 0.7 miles and cross traffic circle and bridge over U.S. Route 29
The road name changes to Johns Hopkins Road
APL is on the right about 0.5 miles past Route 29
Visitor Entrances and Location of the Kossiakoff Center
There are several visitor entrances to APL. The map below shows all of the south entrances, but the most convenient entrances for this event are via either the Pond Road or the APL Drive entrances, both off of Johns Hopkins Road.
The Kossiakoff Center is circled in red in the map below. The entrance to the Kossiakoff Center is on the road running between Pond Road and APL Drive.
Parking
Visitors may park in any open parking lots but the most convenient parking will be either in the visitor lot closest to the Kossiakoff Center marked with a yellow V below, or in the designated APL Staff and Education Center Parking or the Kossiakoff Center Parking areas (both off of Pond Road). These parking areas are indicated with red arrows in the map below.
APL Campus Map