About the APL Drama Club
---
How It All Started
The club has its origins in the building 17 cafeteria at lunch one fall day in 2009, when a conversation between two Space Department geeks went something like this:
"I do community theater."
"I almost minored in theater in college."
"Really? We should start a drama club here."
"I'm in."
"Cool. Want to get some pizza?"
"I'm in for that too!"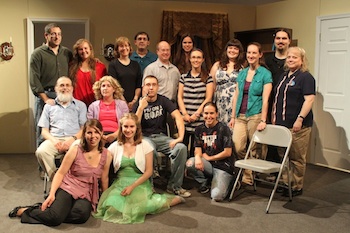 And so the drama club was born! We have officially been a club since Spring 2010. Our goal is to produce free, high-quality theatrical productions at least twice a year for APL employees, their families, and their friends. If you are an actor, writer, technician, patron of the stage, or someone who at one point may just have had a little bit of interest or curiosity in the theater, then the APL Drama Club is for you! Members range from the experienced to the complete novice and we are open to all! So please come and join us on the journey as we grow and evolve. Or at least come and see a free show! Please do not hesitate to contact us if you have questions, comments, or concerns.