What's New with the APL Drama Club?
---
Coming in March 2014 - Let's Murder Marsha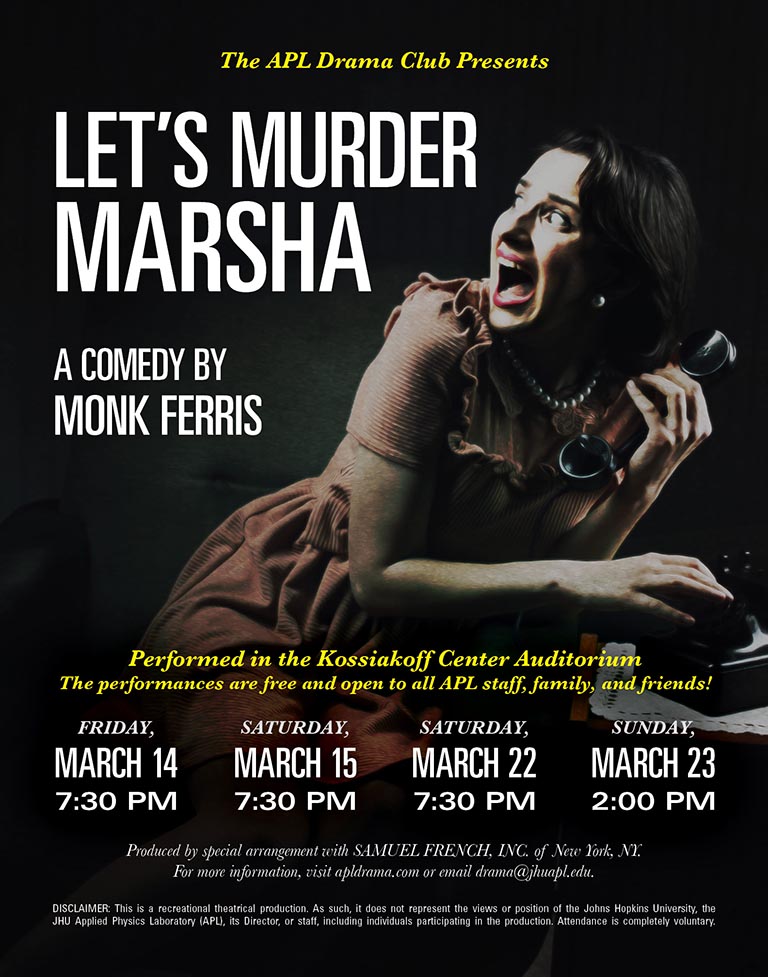 The APL Drama Club is pleased to announce our next production, Let's Murder Marsha by Monk Ferris. Scott Stanchfield has returned to the director's chair to lead both new and returning actors in this non-stop comedy.
A happy housewife named Marsha, hopelessly addicted to reading murder mysteries, overhears her loving husband discussing her upcoming birthday surprise with an interior decorator. To her ears, though, it sounds like they are planning to murder her! With the assistance of her next door neighbor, she tries to turn the tables on them, but when Marsha's mother and her maid's date appear, confusion abounds as everyone tries to figure out just what is going on.
Let's Murder Marsha will be performed in the Kossiakoff Center at the Johns Hopkins Applied Physics Lab on the following dates:
Friday, March 14, 7:30pm
Saturday, March 15, 7:30pm
Saturday, March 22, 7:30pm
Sunday, March 23, 2:00pm
All performances are free and open to all APL staff, family, and friends. No tickets are required.
For more information, please contact the club officers at drama@jhuapl.edu.
---
Cow Wars
The APL Drama Club once again proudly fails to read a simple story. Jack's cow, Milky White, has grown unsatisfied with her role as a docile farm animal and written her own epic saga: Cow Wars! Please join us as Milky White uses her Jedi powers to save Jack from succumbing to the Dark Side of the Force and helps to restore peace to the whole galaxy - uh, farm. Cow Wars is directed by Don Vislay and is the club's second children's production written by Jeff Dunne. Stay tuned for updates on when Cow Wars will be coming back to local libraries!