What's New with the APL Drama Club?
---
The 39 Steps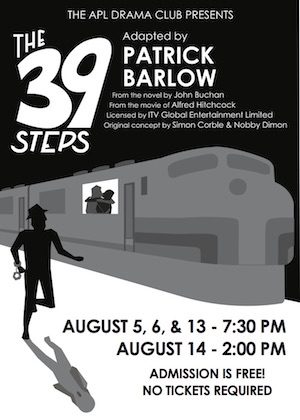 Join the APL Drama Club for our Summer Production of The 39 Steps!
In The 39 Steps, a man with a boring life meets a mysterious and eccentric woman who claims she's a spy. When he takes her home, she is murdered. Soon, a mysterious organization called The 39 Steps is hot on the man's trail in a nationwide manhunt that climaxes in a death-defying finale. The 39 Steps is packed with nonstop laughs, over 150 zany characters, an on-stage plane crash, handcuffs, missing fingers, and some good old-fashioned romance. Come out to see it in the first two weekends of August: the Drama Club's production of The 39 Steps is bound to be an unforgettable evening (or afternoon) of pure fun!
This hilarious show will be performed in the Kossiakoff Center Auditorium on the following dates:
Friday, August 5 at 7:30pm
Saturday, August 6 at 7:30pm
Saturday, August 13 at 7:30pm
Sunday, August 14 at 2:00pm
Please note that the Drama Club has rated this show PG-13 for mild suggestive humor, cartoonish violence, and the use of a prop firearm. All performances are free and open to the public. We hope you can join us!
---
A Drama Club FAQ
The Drama Club produced a short set of frequently asked questions (FAQs) for their production of Fools!
---
Cow Wars
The APL Drama Club once again proudly fails to read a simple story. Jack's cow, Milky White, has grown unsatisfied with her role as a docile farm animal and written her own epic saga: Cow Wars! Please join us as Milky White uses her Jedi powers to save Jack from succumbing to the Dark Side of the Force and helps to restore peace to the whole galaxy - uh, farm. Cow Wars is directed and written by Jeff Dunne - his second written production performed by the Drama Club.
Contact us to learn about upcoming performances.