What's New with the APL Drama Club?
---
Fools: A Comic Fable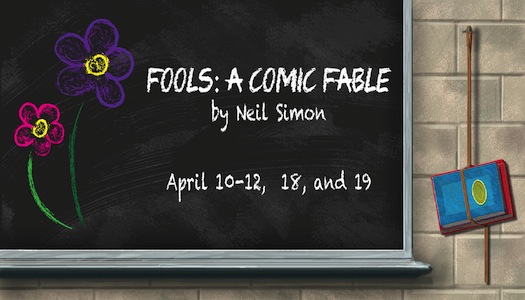 Join the APL Drama Club for our spring production of Fools: A Comic Fable by Neil Simon. Fools is a silly, lighthearted, and endearing comedy that tells the story of Leon Steponovitch Tolchinsky, who travels to the small remote Ukrainian village of Kulyenchikov for his first job as a new schoolteacher. Little does he know that the village has been cursed with ignorance and stupidity for two hundred years. He has twenty-four hours to enlighten the young and beautiful Sophia Zubritsky, before he, too, will succumb to the curse!
Fools will be performed in the Kossiakoff Center Auditorium on April 10-12, 18, and 19. All performances are free and open to all APL staff, family, and friends. We hope you can join us for some fun and hilarious shows.
---
Cow Wars
The APL Drama Club once again proudly fails to read a simple story. Jack's cow, Milky White, has grown unsatisfied with her role as a docile farm animal and written her own epic saga: Cow Wars! Please join us as Milky White uses her Jedi powers to save Jack from succumbing to the Dark Side of the Force and helps to restore peace to the whole galaxy - uh, farm. Cow Wars is directed by Don Vislay and is the club's second children's production written by Jeff Dunne.
Contact us to learn about upcoming performances.