What's New with the APL Drama Club?
---
The Mousetrap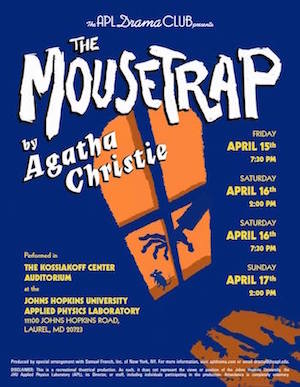 Join the APL Drama Club for our Spring Production of Agatha Christie's The Mousetrap!
The Mousetrap tells the story of a group of strangers temporarily trapped at a small inn during a snowstorm. At first, their biggest problems are clashing personalities, but those problems go out the door as a policeman climbs in the window. The policeman informs them that he believes a murderer is in their midst - a murderer who has already struck once and plans to strike twice more. The residents immediately suspect each other, but between the accusations and the finger pointing, can they discover and stop the murderer before it's too late?
This thrilling mystery will be performed in the Kossiakoff Center Auditorium on the following dates:
Friday, April 15 at 7:30pm
Saturday, April 16 at 2:00pm
Saturday, April 16 at 7:30pm
Sunday, April 17 at 2:00pm
All performances are free and open to the public. We hope you can join us for a twist-filled and engrossing show!
---
A Drama Club FAQ
The Drama Club produced a short set of frequently asked questions (FAQs) for their production of Fools!
---
Cow Wars
The APL Drama Club once again proudly fails to read a simple story. Jack's cow, Milky White, has grown unsatisfied with her role as a docile farm animal and written her own epic saga: Cow Wars! Please join us as Milky White uses her Jedi powers to save Jack from succumbing to the Dark Side of the Force and helps to restore peace to the whole galaxy - uh, farm. Cow Wars is directed and written by Jeff Dunne - his second written production performed by the Drama Club.
Contact us to learn about upcoming performances.