What's New with the APL Drama Club?
---
Coming in August 2014 - Twelve Angry Men
Tickets Available at the Door for All Performances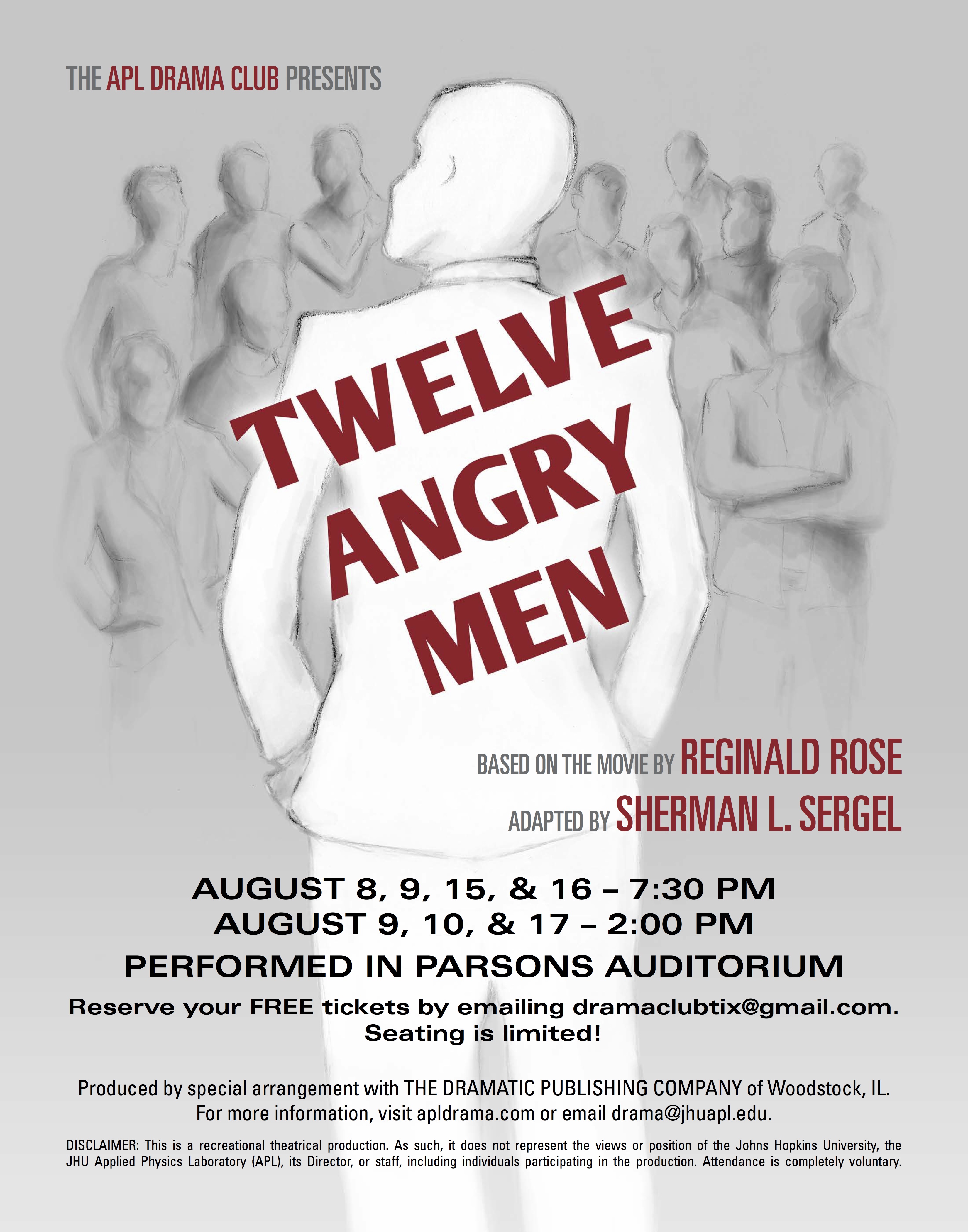 The APL Drama Club is excited to announce our next production, Twelve Angry Men, adapted by Sherman L. Sergel and based on the Emmy award-winning television movie by Reginald Rose. The show has been profiled by The Baltimore Sun and given an extremely postive review by DC Metro Theater Arts.
A man has been murdered, his son is on trial for the crime, but is he guilty? Eleven angry jurors are convinced that the answer is yes - but one man has a doubt, and he is determined to get past their easy answers and arrive at the truth. This riveting drama shows the twists and turns of a seemingly open and shut case, and engagingly explores the universal, timeless, and human themes surrounding prejudice, integrity, and justice.
Twelve Angry Men will be performed in Parsons Auditorium at the Johns Hopkins Applied Physics Lab on the following dates:
Friday, August 8, 7:30pm
Saturday, August 9, 2:00pm
Saturday, August 9, 7:30pm
Sunday, August 10, 2:00pm
Friday, August 15, 7:30pm
(SOLD OUT) Saturday, August 16, 7:30pm
Sunday, August 17, 2:00pm
All performances are free and open to all APL staff, family, and friends, but reservations are required for guaranteed seating. Free tickets can be reserved by emailing dramaclubtix@gmail.com and can be picked up on a will-call basis before the show.
For more information, please contact the club officers at drama@jhuapl.edu.
---
Cow Wars
The APL Drama Club once again proudly fails to read a simple story. Jack's cow, Milky White, has grown unsatisfied with her role as a docile farm animal and written her own epic saga: Cow Wars! Please join us as Milky White uses her Jedi powers to save Jack from succumbing to the Dark Side of the Force and helps to restore peace to the whole galaxy - uh, farm. Cow Wars is directed by Don Vislay and is the club's second children's production written by Jeff Dunne. Stay tuned for updates on when Cow Wars will be coming back to local libraries!