What's New with the APL Drama Club?
---
Flaming Idiots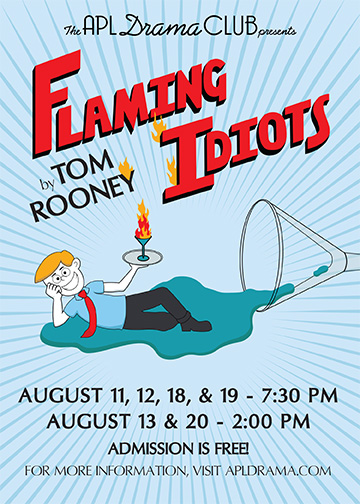 Join the Drama Club for our latest production: Flaming Idiots, by Tom Rooney!
In this riotous and silly comedy, two regular guys named Phil and Carl decide to open up a restaurant. The only problem? They have no idea how to actually run a restaurant! Predictably, their restaurant flounders, and Phil and Carl are on the brink of ruin. Then inspiration strikes them: Zippy's, a much more popular restaurant, has been packed since the famous mobster Cy Manamalancia was shot there over twenty years ago. What if something similar could happen at Phil and Carl's restaurant... They hatch a plan, and it goes terribly for them - but hilariously for us, the audience!
Come on over to see this side-splitting show performed in the Kossiakoff Center Auditorium on the following Summer dates:
Friday, August 11 at 7:30pm
Saturday, August 12 at 7:30pm
Sunday, August 13 at 2:00pm
Friday, August 18 at 7:30pm
Saturday, August 19 at 7:30pm
Sunday, August 20 at 2:00pm
All performances are free and open to the public. Please note that the APL Drama Club has rated this production as PG-13 for mild suggestive humor, cartoonish violence, and use of a prop firearm.
We hope you can join us!
Produced by special arrangement with SAMUEL FRENCH, INC. of New York, NY.
---
A Drama Club FAQ
The Drama Club produced a short set of frequently asked questions (FAQs) for their production of Fools:
---